Perfect for Meetings, Conferences & Training Days
Feeding a crowd? Our platters are perfect for office catering! From board meetings to breakfast clubs to training days, our food is freshly made just for you and is perfect for sharing with your team! Scroll down to see our platter options and fill in the form to request your order. We'll email back to confirm your order.

Breakfast
Start your day the right way with a SOHO breakafst platter. Choose from pastries, freshly made hot breakfast butties or classic fresh fruit.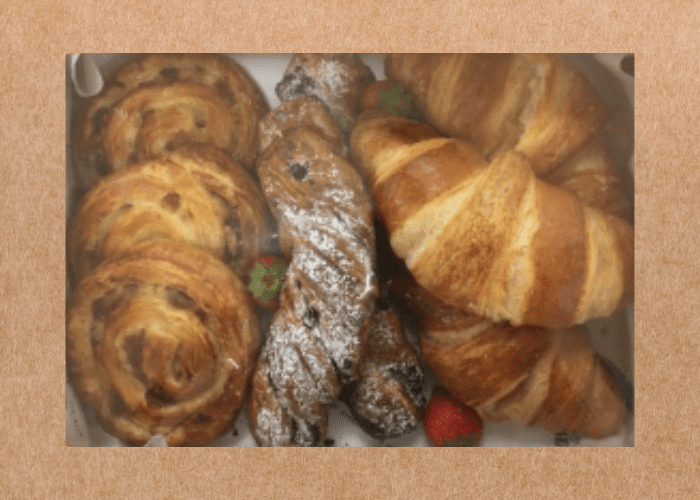 Pastry Box (V)
A selection of freshly baked croissants, pain aux raisin, and chocolate pastries.
Serves 9
£20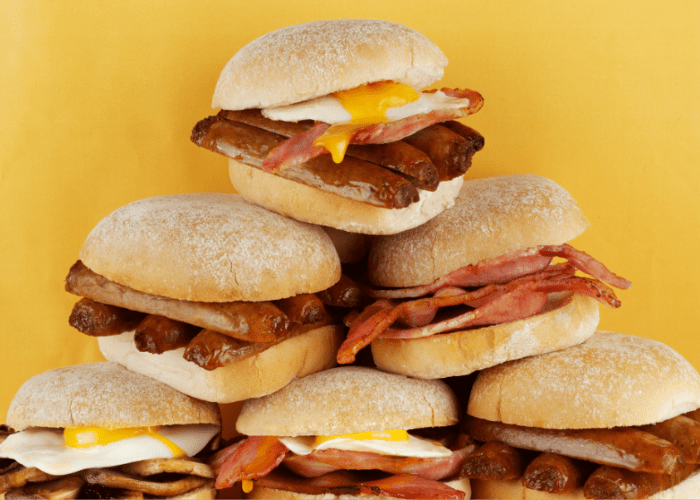 Breakfast Rolls



Freshly made hot breakfast rolls. Choose a combo of Triple Bacon Buttie, Triple Banger Buttie, or Mushroom & Egg Buttie (V).
Serves 6
£30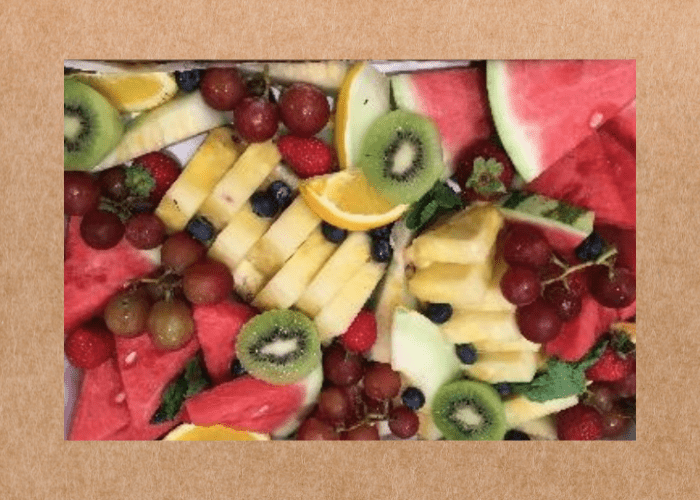 A selection of freshly cut fruit lovingly made in our SOHO kitchen.
Serves 12
£27
Lunch & Later
Our classic SOHO lunch platters are guaranteed crowd pleasers, with options for meat lovers and vegetarians alike!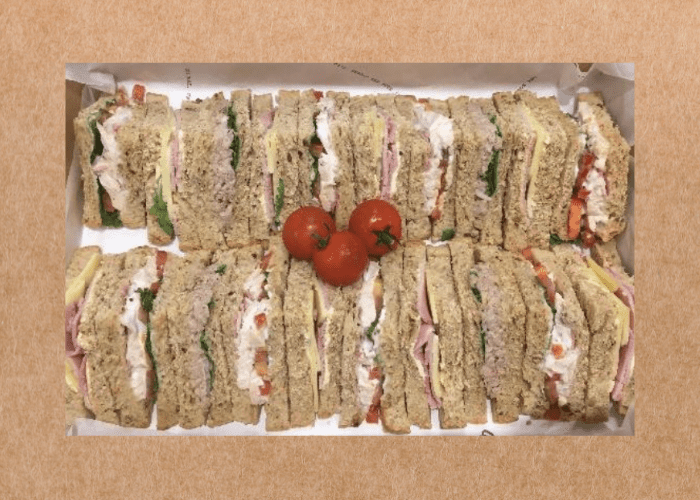 Marvellous Mix
A selection of Tuna, Red Onion & Rocket Sandwich, Chicken Club Sandwich, Ham & Egg Sandwich, with whole cherry tomatoes.
Serves 5
£24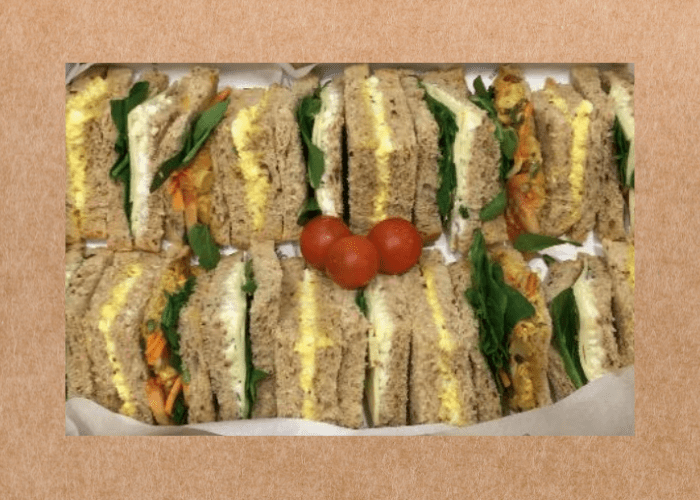 Very Veggie (V)
A mix of Coronation Chickpea Sandwich, Egg Mayo Sandwich, Cheddar and Spring Onion Sandwich, with whole cherry tomatoes.
Serves 5
£24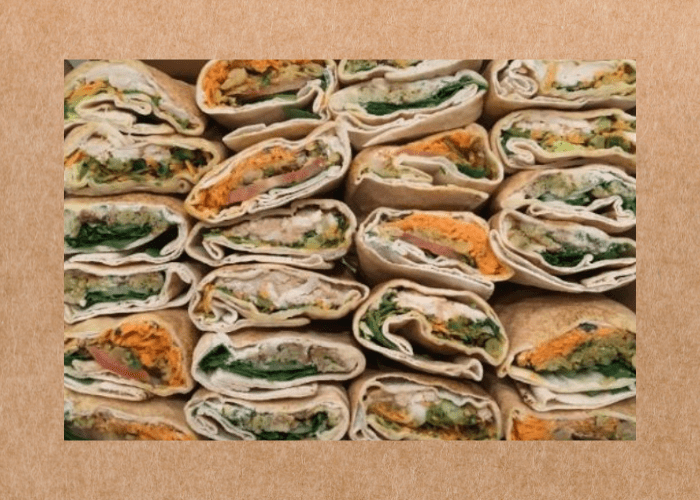 Tasty Khobez



A mix of Chicken Satay Khobez, Teriyaki Duck Khobez, Onion Bhaji Khobez and Falafel Khobez.
Serves 12
£50
Treats
Fancy a little sweet something? From our iconic brownie to our freshly baked muffins, our sweet treat platters are sure to delight!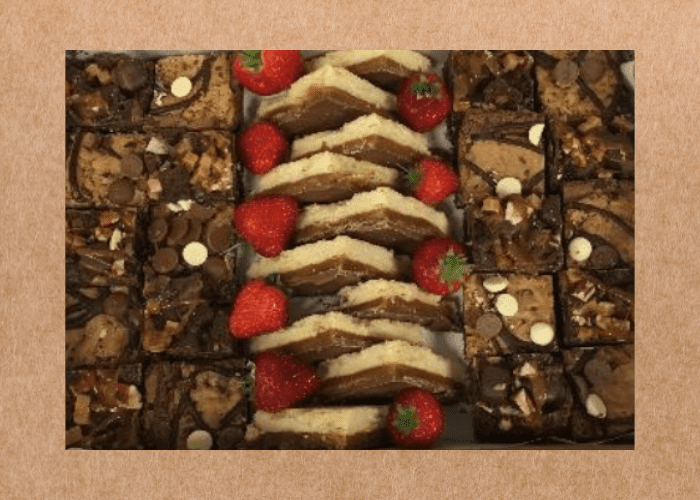 Indulgence Box
Chunks of our Salted Caramel Pecan Brownie, & our Belgian Chocolate Caramel Shortcake & our Cookie Dough Brownie.
30 pieces
£42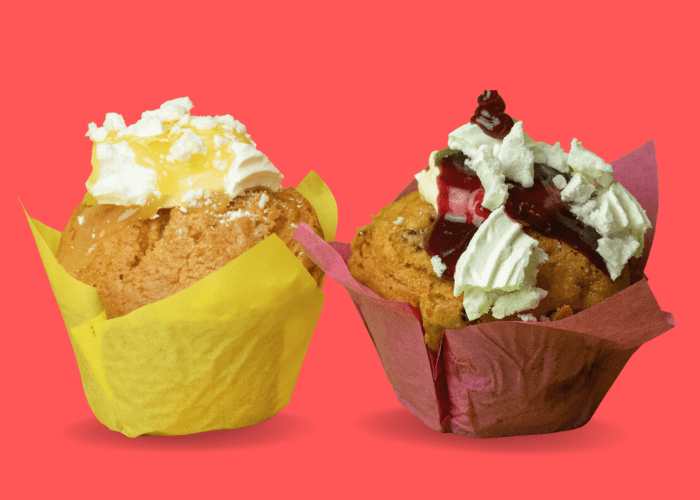 Fresh Muffin Box
Enjoy four of our handmade freshly baked seasonal muffins.
Serves 4
£12
Fill in the form below and one of our lovely team members will get back to you!
Do you deliver?
Currently we are unable to deliver our platters to your location, however you are able to collect from your closest SOHO store.
What is the cut off time for placing my order?
Please place your order by no later than 12pm the day before you require your platters to give our team enough time to make it with love and care!
Can I make changes or cancel my order once it's placed? 
All our platters are made fresh to order, so we are unable to accept any same day cancellations or amendments to orders. If you have ordered well in advance, we may be able to accommodate changes provided, please talk to your chosen store about this.
I don't want a platter, can I have something bespoke?
Of course! We can help with other catering options if you're after something different. Whether it's feeding film crews or catering a corporate conference, we'd love to help! Just email talktous@sohocoffee.co.uk and we'll get back to you.